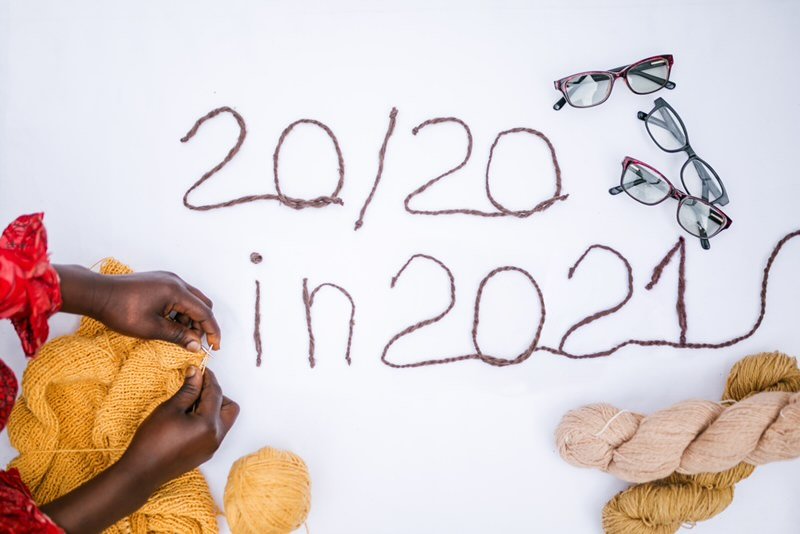 This year for Giving Tuesday, the worldwide day of generosity, we're helping 160 women in northern Rwanda see Hope more clearly. How? By raising $24,840 by Tuesday, November 30  to provide eye exams, eyeglasses and holistic care for those who need them.
Our 20/20 in 2021 campaign will not only increase the overall health of our organization by helping our ladies perform more productively and comfortably in the roles, but it will further our mission of breaking the generational cycle of poverty by ensuring their ability to work for years to come.
We had originally scheduled this campaign to launch in 2020 (when perhaps the name may have been more catchy)! But, like the rest of the world, these plans were put on hold amidst the COVID-19 pandemic. Our priorities shifted as we focused on meeting the more immediate needs of our ladies and surrounding community, including ensuring job security.
Now that we're beginning to get back on our feet, we want to stay true to our word and ensure all of our women receive eye care by year-end. We were overwhelmed by the support we received last year as we raised money for our new counseling center (stay tuned, exciting updates to come!), The Will Barnhill Center of Hope, and we invite you to once again join us in the life-saving work God is doing in northern Rwanda.
Eye care is essential to breaking the cycle of poverty, as it can both correct and prevent vision loss that might hinder one's ability to work, among other factors.
According to a study conducted by Vision for a Nation and Rwanda's Ministry of Health, notable burdens of visual impairments include loss in productivity (income), reduced education opportunities in young people, accidents and injuries caused by poor vision, and ultimately, overall costs to quality of life.
And it doesn't have to be that way. The 2019 World Vision Report from the World Health Organization states that, of the 2.2 billion people around the world with a vision impairment, 1 billion have a vision impairment that could have been prevented or is yet to be addressed.
In Rwanda specifically, an estimated 1.2 million people have uncorrected refractive error, or visual error that could be corrected by eyeglasses. Of this population, 1 million are estimated to be of working age. 
The overall productivity loss to the national economy caused by these impairments is suggested to be $60 million per year.  
Most of our artisans are among these statistics, as they have never had an eye exam. This is because, while all of our ladies receive healthcare through working for Handspun Hope, the out-of-pocket costs for eyeglasses and other corrective treatments are still quite high. 

For those that do wear glasses, most do not have a proper prescription. We believe many of our ladies currently need new or updated glasses,  while the rest will certainly benefit from the preventative nature of the eye exams—a basic element of healthcare they should all have access to.
By contributing to the overall eye health of our women, you are helping to secure their working future—and therefore the livelihood of them and their families—for years to come.
What it Costs
Our goal is to raise $24,840, to help cover the costs of eyecare and guarantee the future of our holistic health care programs for our women in 2021. How does this break down?
To provide quality eye care for one woman is approximately $99. 
Eye exam: Up to $18
Eyeglasses: Up to $65
Eyeglasses accessories: $6

Transport to eye exam + other administrative costs: $10
     TOTAL: $99
For  just $99, you can guarantee that a woman will see a brighter future for her and her family.
Additionally, we are anticipating the need to create more full-time jobs for women in our community over the next few months. We anticipate that the number of permanent, salaried artisans at our center could increase from 123 to 160!
$99 / lady x 160 ladies = $15,840
While we are excited at the potential of providing more life-saving employment in Rwanda, serving more artisans means that we also anticipate higher holistic care program expenses. These include programs like providing general health care and mental health counseling services. The remaining $9,000 of our total goal, including any excess funds raised, will help cover these costs for at least 6 months (from 2021 and into 2022).
$15,840 + $9,000 = $24,840
Join us.
Give today, and you'll empower a woman to envision hope more clearly.
Here's how.
Visit our Facebook Page and donate to the campaign link, or visit our online giving page.
Make your dollar go further.
You can give at any time in November, but if you wait until Giving Tuesday (Nov. 30), you can maximize your dollar with our match campaigns!
Starting at 8 a.m. on Giving Tuesday, Facebook will be matching $8 million in qualifying donations, while funds last. The first $2 million will be dollar-for-dollar matching, so the earlier you participate, the greater impact it will have! The remaining funds will match at 10% match of your overall donation. 
We've also received a generous $5,000 match commitment for all online donations. This means that for every dollar you give online, we'll receive one from our match fund. In other words, your gift will be doubled, up to $5,000! This match will run all day on Giving Tuesday.
---
 Murakoze cyane.
It means "thank you very much" in Kinyarwanda. Give today, and receive a free gift, handmade with love in Rwanda by our empowered artisan partners.
KITENGE COIN POUCH

Gifts of $35 or more.
KITENGE ANGEL ORNAMENT

Gifts of $99 or more.